HPI Vorza Flux RTR
Based on the world championship winning Hot Bodies D8 4WD 1/8-scale buggy, the Vorza goes green and receives a full brushless makeover. Complete with HPI's proven Flux Blur ESC and Tork motor that are also found in the HPI Savage Flux HP, all you need to do is add your battery packs of choice to reach mach-like speeds. The Vorza is packaged as a complete and competitively priced ready-to-run 1/8-scale buggy that will satisfy the needs of the backyard basher, front of your house street racer, and even those that love the competitive side of things.
A bulletproof drivetrain that consists of front universals, front, center, and rear fluid filled differentials, and a hardened steel spur and pinion gear make for a car to take the harshest of demands. The Vorza truly packs the punch when it comes to handling and ease of drivability, thanks to its extremely plush 16mm Big Bore aluminum shocks with threaded bodies, fully adjustable suspension blocks, adjustable camber and toe, and even sway bars at both the front and rear of the car.
With so many various battery options and configurations out there, it can be hard to get them securely mounted. But that is not the case with the Vorza, that comes complete with a fully-adjustable battery box that can securely hold any battery pack from Ni-Cd all the way to the latest and greatest Li-Po packs.
If speed, durability, size, looks, performance and low cost are what you are looking for in a 'Go Green' off-road RTR package, then the HPI Racing Vorza is the car for you!
source:
http://www.hpieurope.com
HPI Trophy Flux Buggy RTR
The brushless-powered RTR Trophy Buggy Flux from HPI is the go-to kit for all-out fun and excitement combined with mind-bending top speeds! The Trophy Buggy has been a hugely popular 1/8th buggy, and now that it's fitted with the demonically fast Scream brushless motor and the 4S-capable Flux Rage speed controller, you can finally see what all the excitement is about with 1/8th electric buggies at a great price!
Fully assembled right out of the box and fitted with a no-hassle HPI 2.4GHz radio system, the Trophy Buggy Flux is ready for you to drop in two 2S LiPo batteries for 14.4 volts of ground-crushing fun! Go brushless with the Trophy Buggy Flux!
source:
http://www.hpieurope.com
KYOSHO VE RTR
The kyosho ve (vortex experience) is the new standard in brushless 1/8 scale!
Featuring Team orion's digital vortex experience brushless esc and motor designed for performance in the 1/8th scale class! faster than nitro buggies and with less maintenance and hassle this new class of off road racing is sure to attract a huge following along with the inferno ve.
The kyosho inferno ve is based on the most popular platform in rc history; the mp7.5! with many world championship wins behind it, this is the ultimate base to go from for the ve. parts are easy to come by and extremely tough and durable. this is the car that every other 1/8 scale buggy owes its existence to!
Along with many new and purpose built parts the new ve is ready for you to hit the track, park or wherever you want to go!
source:
http://www.infernosonly.com/Kyosho_Inferno_VE_Readyset_p/kyo30875b.htm
HotBodies VE8 KIT
Where did Hot Bodies get the idea to take there already successful platform and make it a electric beast? A new introduction from the iFMAR world championship platform is sure to appeal to the new electric crowd. By leveraging the accomplishments of the original HB D8, there are two BIG improvements that stand out with this production 1/8 scale racer. The standard aluminum chassis has been replaced with molded carbon plastic. The new chassis has been stretched 2mm, while keeping the weight low without sacrificing rigidity or performance. The new Ve8 from Hot Bodies has world championship lines. These include suspension geometry, 16mm big bore shocks, and the drive train with three adjustable fluid differentials. Hot Bodies Ve8 includes an "optional" mechanical brake system with the Ve8 kit. The Hot bodies Ve8 is offered as a race roller, just add the rubber & electronics.
source:
http://www.hotbodiesonline.com/kits/en/67535/
OFNA NEXX8 KIT
The OFNA Nexx8 is a competitive 1/8 electric buggy kit with performance and reliability to put you in the front of the pack at a price that does not break the bank. Designed to use two 7.4 style stick packs, this buggy is an easy step from 1/10 to 1/8 scale for anyone that has stick pack size batteries.
This buggy utilizes the very popular 16mm CNC threaded shocks to keep the Nexx8 balanced chassis smooth and flat through the roughest sections of the track. The added adjustability lets you fine tune the handling to your driving style.
The chassis kit is 80% assembled and includes unpainted body, wheels and tires.
source:
http://www.ofna.com/nexx8.php
Hobao Hyper 9E KIT
Welcome the newest competitor to hit the electric racing circuit: The Hyper 9e! The Hyper 9e electric 1/8 buggy is not just a converted nitro buggy. It has a new chassis and center differential location for better weight distribution which provides superior handling characteristics. The chassis has been embossed to reduce flex and the center differential has been moved to the rear to move the motor forward for better balance.
souce:
http://www.ofna.com/hyper9e.php
CEN Matrix R3 - E RTR
CEN has spent hours at the track figuring out what works, and th Matrix R3-E clearly shows that. Its handling is superb. and runs very reliably—a big bonus for beginners. The FM radio is really nice, and the high-torque servos are excellent. And you get all this at a price that makes it an outrageously good deal. It's perfect
for those who want to get their start with a big, bad, 1/8-scale buggy.
source:
http://www.cenracing.com/cars/matrix/matrixr3-e.html
Team Associated RC8.2e Factory Team KIT
Team Associated has taken all of the refinements from the RC8.2 and have applied them to our electric-power platform-creating the RC8.2e Factory Team Kit! The RC8.2e has already been proven as a winner after TQing and winning the 2011 Sidewinder Nitro Explosion in the capable hands of Ryan Cavalieri.
The RC8.2e Factory Team Kit has a long list of new performance parts, making for the best and lightest Associated EP 1:8 scale buggy to date. The RC8.2e starts with the Factory Team +3mm 7075 hard anodized chassis. The new chassis and side-guards shed over half an ounce along with adding 3mm of length to optimize weight distribution and overall handling.
The RC8.2e Factory Team Kit also received the newly designed suspension arms featuring centerline shock mounts and an optimized anti-roll bar position. The new suspension arms were designed to work with the Factory Team 5mm 7075 aluminum low-center-of-gravity shock towers to improve and optimize the suspension geometry, making the RC8.2e more plush and forgiving in rougher terrain.
The RC8.2e Factory Team Kit includes the 16mm Big Bore hard-anodized threaded shocks with 4mm titanium-nitride coated shafts and revised shock boots, all to help increase traction and keep the rubber on the ground. The RC8.2e Factory Team Kit also proves to be an exceptional value, including many Factory Team parts that were previously only available as separately purchased upgrades.
Take your electric-powered 1:8 scale buggy game to the next level with the new RC8.2e Factory Team Kit, and drive what the winners drive!
source:
http://www.teamassociated.com/cars_and_trucks/RC8.2e/Factory_Team/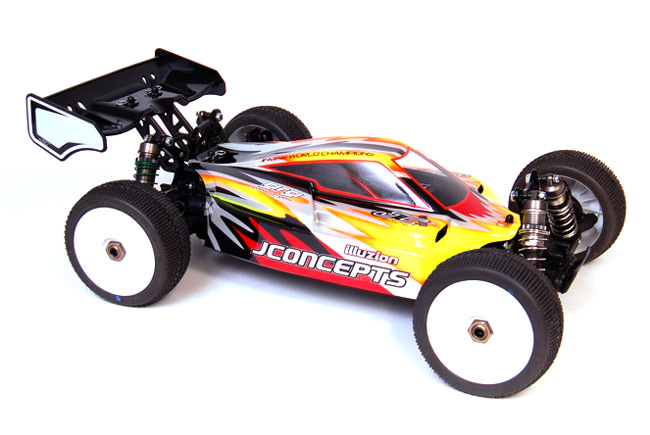 Losi 8ight 2.0 - E Race Roller
The 8IGHT-E 2.0 Race Roller is a competition buggy chassis that has been hand-built and tuned to exacting specifications. The 8IGHT-E 2.0 Race Roller offers several innovative design elements including a powerful Xcelorin 2100Kv brushless motor and speed control, a Tuned Flex Technology chassis, lightened shock towers, an updated suspension geometry, a race-inspired body design and more. You can be sure your 8IGHT-E 2.0 Race Roller is ready for serious competition as soon as you open the box.
souce:
http://www.losi.com/Products/Default.aspx?ProdId=LOSA0806